Your Flash Player is out of date please update now:
.
The Simpsons 1512 Milhouse Doesn't Live Here Anymore
Times Watched: 614311
Comments: 46
Rating: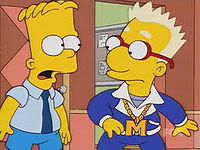 Milhouse moves away from town, and Bart comes to realize just how much his pathetic friend means to him. After a lot of moping, Bart comes to seek out friendship from an unlikely source: Lisa. As they start to hang out more, the siblings realize that they actually like each other's company¦until Milhouse returns and the status quo is restored. Meanwhile, Homer looks for innovative ways to drum up the money for an anniversary gift for Marge. He becomes a really adept panhandler, and earns enough to buy her diamond earrings
You must be logged in to comment.