Your Flash Player is out of date please update now:
.
The Simpsons 1011 Wild Barts Can't Be Broken
Times Watched: 631512
Comments: 56
Rating: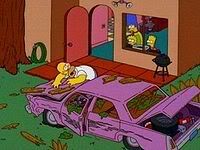 Homer and his drunken cohorts celebrate an improbable victory by the Springfield Isotopes by trashing the local elementary school. But when the police force fails to locate the actual vandals, the town's children are hastily blamed for the rowdiness and punished with a new sunset curfew. Guest starring Cyndi Lauper.
You must be logged in to comment.