Your Flash Player is out of date please update now:
.
The Simpsons 923 King of the Hill
Times Watched: 474170
Comments: 19
Rating: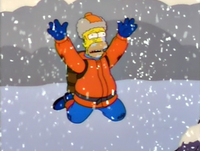 Crestfallen by Bart's shame of his poor physical condition, Homer sets out to work out. But when a pair of publicity scouts offer him the job of climbing The Murderhorn to promote their product, Homer is too blindsided by lust for physical perfection to turn down the expedition.
You must be logged in to comment.