Your Flash Player is out of date please update now:
.
The Simpsons 1620 Home Away from Homer
Times Watched: 571555
Comments: 46
Rating: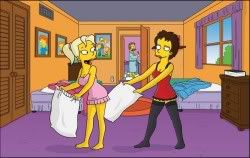 Ned hasn't been doing too well at the Leftorium ever since LeftMart opened, so Marge suggests that he rent out one of his rooms, which he does, to two girls from the local community college. However, the two girls have a sideline of their own; a webcam of their bedroom (www.sexyslumberparty.com - and, at the time the episode first aired, the link worked, pointing to a site with drawings of the two girls), which soon becomes a town hit. When Marge finds out, she drags Homer (literally, by the ear) to Ned, who discovers the truth and realizes that he can't trust anybody in Springfield any more. There is one place he can go; Humbleton, Pennsylvania, the home of the Humble Figurines that he collects.
You must be logged in to comment.