Your Flash Player is out of date please update now:
.
The Simpsons 1616 Don't Fear the Roofer
Times Watched: 499317
Comments: 25
Rating: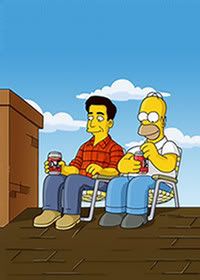 It's raining in Springfield, and Homer's roof is leaking, so Homer takes the only sensible course of action; he heads off to Moe's. However, he spoils a surprise party for Lenny, and makes it worse when the barstool he sits on turns to be a cake in the shape of Lenny's favorite seat, so he's tossed out by Moe. Homer ends up at Knockers, where he meets a fellow loner (voiced by Ray Romano), who turns out to be a roofer. However, nobody but Homer ever seems to be able to see Ray - not even Bart, who was in the home repair warehouse with the two of them - so Marge and Dr. Hibbert have Homer declared insane. Note: this episode's opening includes a caption that says it is the 350th episode. The original idea was for "The Heartbroke Kid" to be the 350th episode, but when the death of Pope John Paul II caused the premiere of "The Father, the Son, and the Holy Guest Star" to be delayed, Fox made the switch to this episode. Note that Fox never explains how this episode is number 350, but they did plan to air the 350th on the same day as the return of new episodes of Family Guy and the premiere (not counting the episode that aired after the Super Bowl) of American Dad!. (See "Barting Over" in Season 14 for another example of Fox's "creative accounting".)
You must be logged in to comment.