Your Flash Player is out of date please update now:
.
The Simpsons 1608 Homer and Ned's Hail Mary Pass
Times Watched: 577128
Comments: 37
Rating: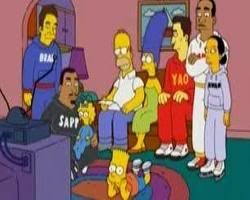 Homer one-ups Bart at a carnival game and does an "in-your-face" victory dance, which is caught on video and uploaded to the Internet, catching the interest of a professional football player who needs somebody to design new end zone celebration dances for him. Soon, Homer is choreographing celebrations for Yao Ming, LeBron James, Warren Sapp, Tom Brady, and Michelle Kwan (all of whom voice themselves), and ends up getting asked to choreograph that year's Super Bowl halftime show. However, the night before the game, Homer still doesn't have any ideas, so he goes into the church to ask for divine inspiration (or at least ideas from the people who sleep in there) - just as Ned is praying for guidance as nobody is watching his Bible-inspired movies.
You must be logged in to comment.