Your Flash Player is out of date please update now:
.
The Simpsons 925 Natural Born Kissers
Times Watched: 491432
Comments: 47
Rating: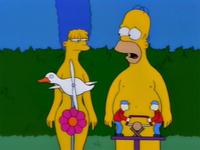 After a near-fatal encounter with a peeved farmer and his pitch-fork, Homer and Marge uncover the secret to reigniting their crapped-out sex life: dangerous situations. Meanwhile, Bart and Lisa make their own discoveries, including the lost ending to Casablanca, using a metal detector.
You must be logged in to comment.