Your Flash Player is out of date please update now:
.
The Simpsons 1509 I, (Annoyed Grunt)-Bot
Times Watched: 564187
Comments: 42
Rating: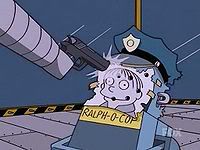 In his ongoing effort to impress his son, Homer decides to build a robot that can fight on the mechanical gladiator show they enjoy watching on television. Without the technical skills to build it correctly, Homer decides to don a robot suit and fight for Bart's affection – getting beaten to a pulp in the process. Meanwhile, Lisa is crushed when Snowball III dies, and is further distraught when she can't keep a large number of replacement cats alive either.
You must be logged in to comment.