Your Flash Player is out of date please update now:
.
The Simpsons 1413 A Star is Born-Again
Times Watched: 427816
Comments: 30
Rating: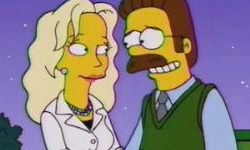 In a send-up of "Notting Hill", Ned Flanders begins dating a forgotten starlet. Guest stars Marisa Tomei, Helen Fielding, and James L. Brooks.
You must be logged in to comment.