Your Flash Player is out of date please update now:
.
The Simpsons 1113 Saddlesore Galactica
Times Watched: 437083
Comments: 19
Rating: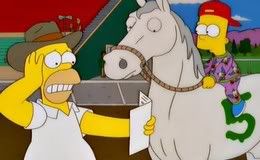 Homer and Bart adopt an abandoned racehorse, named Duncan, and soon discover the ups and downs of horse racing. Guest starring Bachman Turner Overdrive (BTO) and Jim Cummings as Duncan.
You must be logged in to comment.