Your Flash Player is out of date please update now:
.
The Simpsons 1114 Alone Again Natura-Diddily
Times Watched: 556139
Comments: 65
Rating: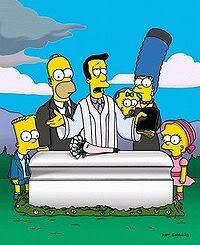 When Maude Flanders dies in a freak accident, Homer takes it upon himself to help Ned rebuild his life and gets him back into the dating game. After several unsuccessful dates, Ned walks into church and finds himself interested in the lead singer of a Christian rock band.
You must be logged in to comment.