Your Flash Player is out of date please update now:
.
The Simpsons 1117 Bart to the Future
Times Watched: 484817
Comments: 52
Rating: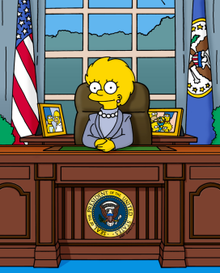 While visiting an Indian casino with his family, Bart encounters an Indian who foretells of his future. Bart learns that in the future he is a ne'er-do-well musician with Ralph Wiggum as a room mate. He goes to see Lisa to borrow money, but Lisa has her own problems, being the newly-elected President of the United States and facing a tax crisis.
You must be logged in to comment.