Your Flash Player is out of date please update now:
.
2101 Homer the Whopper
Times Watched: 1845019
Comments: 292
Rating: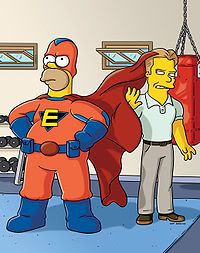 Comic Book Guy creates a new superhero called Everyman who takes powers from other superheroes. Homer is cast as the lead in the film adaptation. To get Homer into shape, the movie studio hires a celebrity fitness trainer, Lyle McCarthy to help him.[1] Homer gets into great shape, and is really excited, but the film is canceled, and his life falls apart.
You must be logged in to comment.