Your Flash Player is out of date please update now:
.
The Simpsons 1312 The Lastest Gun in the West
Times Watched: 430877
Comments: 24
Rating: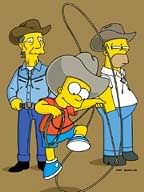 Bart and Lisa meet a washed-up movie star of westerns from the 1950s and attempt to revive his career by getting him to appear on the Krusty the Klown show. But years of alcohol abuse get in the way.
You must be logged in to comment.