Your Flash Player is out of date please update now:
.
The Simpsons 1322 Poppa's Got a Brand New Badge
Times Watched: 585671
Comments: 51
Rating: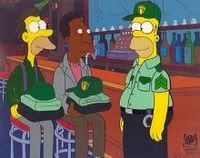 Homer accidentally causes an electrical blackout in Springfield, and all of the citizens begin looting the town's businesses. Chief Wiggum is useless at restoring order, so Homer takes the law into his own hands and becomes a policeman. Joe Mantegna reprises his Fat Tony role yet again. Season Finale.
You must be logged in to comment.