Your Flash Player is out of date please update now:
.
The Simpsons 712 Team Homer
Times Watched: 461667
Comments: 32
Rating: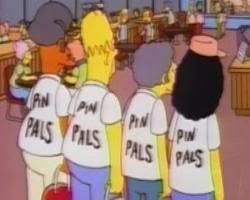 Thanks to Burns' ether induced state, Homer gets the money he needs to start a bowling team. However, Burns' head clears and he wants in. Meanwhile, Bart's inflammatory T-shirt causes a riot at school, resulting in Principal Skinner issuing mandatory school uniforms.
You must be logged in to comment.