magie simpson fan's Profile
| | |
| --- | --- |
| User ID | #181475 |
| Video Views | 1,541 |
| Location | In Springfield... but which one? |
| Interests | animals |
| MSN Address | briana.mackenzie@yahoo.com |
| Website | |
The Simpsons 1614 The Seven-Beer Snitch
While in Shelbyville, the Simpsons watch a musical about the town, which includes a character from Springfield who isn't particularly bright. Marge suggests to the Springfield Cultural Activities...
The Simpsons Movie
The city of Springfield orders a clean up of the polluted Lake Springfield and bans waste dumps there. However, someone forgot to tell Homer Simpson that, and when he dumps a silo of "Pig Crap&qu...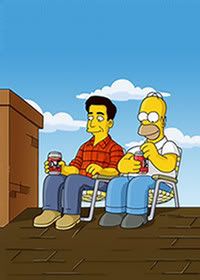 The Simpsons 1616 Don't Fear the Roofer
It's raining in Springfield, and Homer's roof is leaking, so Homer takes the only sensible course of action; he heads off to Moe's. However, he spoils a surprise party for Lenny, and ma...